March 17, 2022
Living Room Showdown—Rock the Block Episode 2
The second episode of Rock the Block has officially aired, and this weeks' challenge was all about the grand entrance of the home. The contestants were put to the test to make the most out of the entryway and living room throughout their Hunter Quinn home for the ultimate wow factor. With incredible designs showcased throughout the episode, this weeks' guest judge, Jasmine Roth had her work cut out for her when choosing the winner.
A look back at episode 2
The contestants brought out all the stops this week with their entryway and living room makeovers—and similar to last week, the individual creativity each team displayed was breathtaking.
Keith and Evan took advantage of the massive entryway to display some incredible wall art and rounded out the windows and ceiling edges to work cohesively with their furniture choices. Team Lyndsay and Leslie went all in on color once more this week—channeling an eclectic South Carolina feeling. With an antique fireplace mantel from 1813 and vintage maps as the wallpaper in the entryway—this dynamic duo went above and beyond with their research of the area to give their home some incredible Charleston charm. The grand fireplace and floating benches were the focal point of the living room for Dave and Jenny. With a classic coastal undertone throughout the design—their space had the perfect mix of sophistication and functionality. It was Egypt and Mike who took home the first place finish this time, though, with their seamless blend of elegance and functionality. The duo pushed the entryway wall out a few feet, enabling them to add a hallway that attaches the home to the garage, plus—add in a mudroom and powder room for an additional 120 square feet of space.
Enhancing the Hunter Quinn style
In this second episode of Rock of the Block, the teams couldn't wait to get to work designing the incredibly spacious interior of the entryway and living room. With the interior design of your home, it is all about allowing your personality to shine through. Although the end goal for the teams is to add the most value to the home—their individual style is still at the forefront of each space.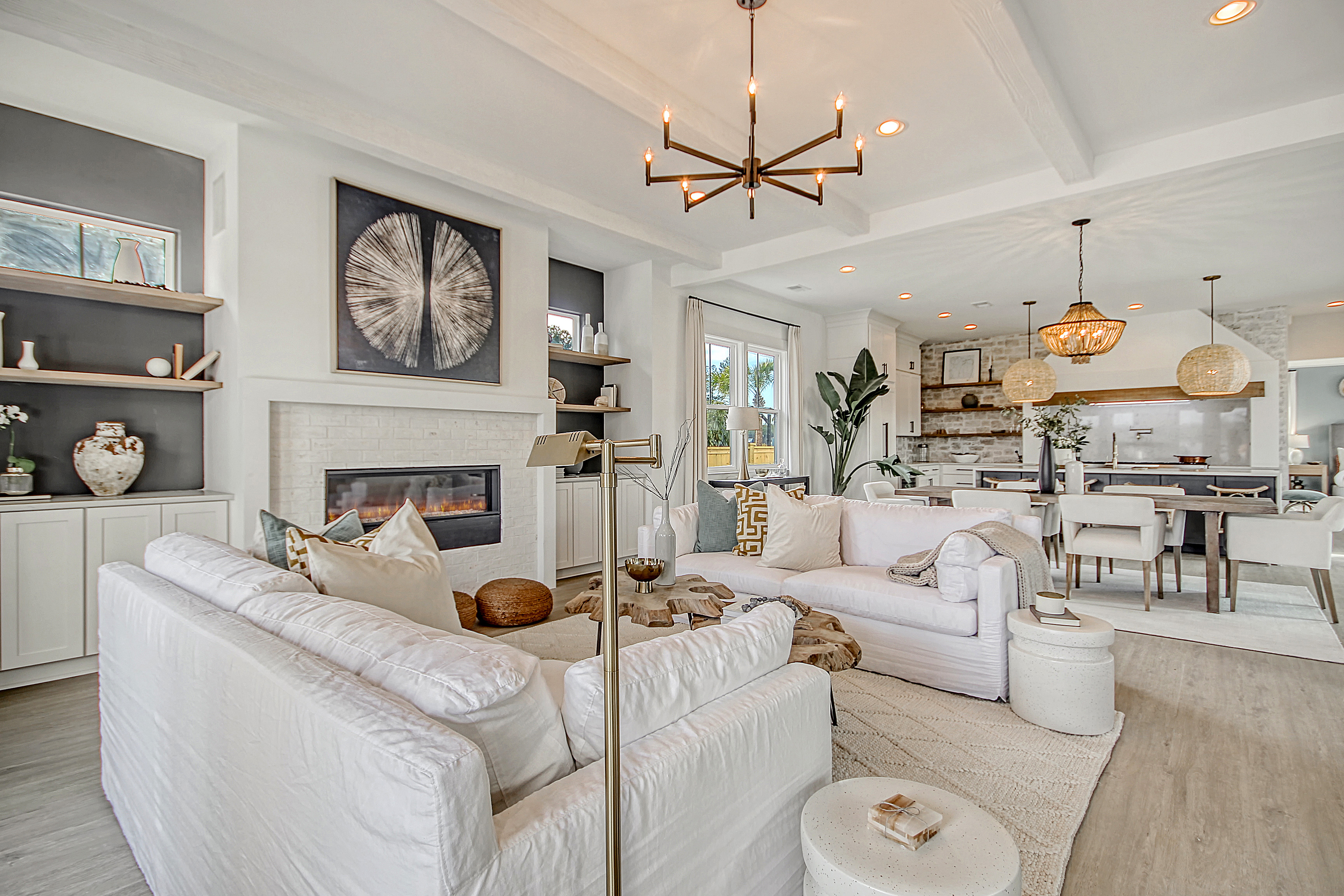 Similar to some designs in our own Hunter Quinn homes, Keith and Evan created an incredible brick fireplace that catches the eye and adds warmth to the area—while Egypt and Mike and Dave and Jenny both focused their efforts on keeping a neutral color palette to effortlessly bring about a clean and elegant design to the space.
Don't miss out on upcoming episodes
There is still so much more to come with this season of Rock the Block, and we are excited to continue to share our own experience with you. Stay up-to-date with our team on social media, and a behind the scenes look at the home construction process by checking out our Behind the Block series featured on our YouTube channel!