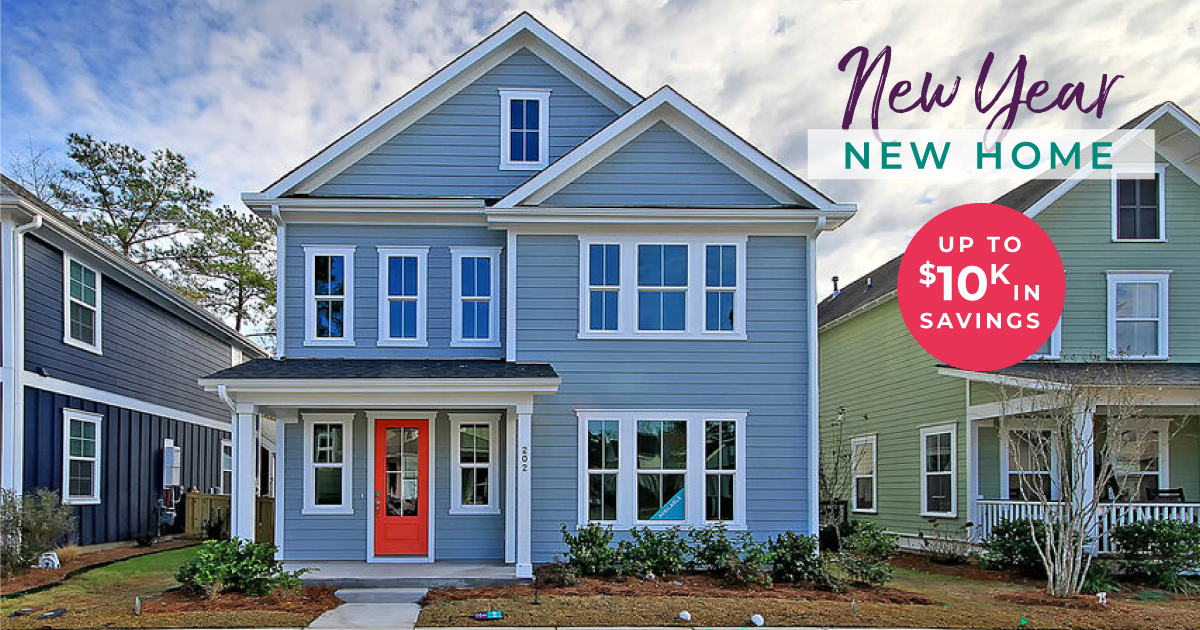 January 12, 2021
Make 2021 your New Home New Year
Whether you were hoping to buy a new home or even just trying to implement a new fitness routine, 2020 was a rough year for resolutions. However, Hunter Quinn Homes is declaring 2021 a year of hope. Let's put 2020 to rest and make 2021 your New Home New Year! 
That could be a chic townhome in North Charleston or a larger single-family plan from our Coastal Farmhouse Series in Moncks Corner. Either way, it is new, and perfect for you.
To make your decision even easier, we have various incentives throughout our existing communities that may save you up to $10,000 or more on a new home in Charleston. 
Is now the right time for me to buy?
We saw historically low mortgage rates in 2020 and expect that trend to continue as the economy recovers. As of December 30, a 30-year fixed-rate mortgage rate was 2.890% which is more than a point lower than the annual average of 3.94 in 2019. That difference could mean thousands of dollars saved over the life of your loan.
It is likely that these rates will stop dropping in the new year. In fact, the National Association of Realtors is expecting rates will average around 3.1% and the Mortgage Bankers Association predicts 3.3%. Both are lower than we have seen in recent years but show that this good fortune may be trailing off in future months.
Tell me more about the incentives
We have a handful of quick move-in homes in the Charleston area, with move-in ready homes offering up the biggest incentives to purchase. Save up to $20,000 on select homes that you can use towards closing costs, the purchase price of the home, or some last-minute post-construction additions you have always wanted in a new home.
What if I want a different location?
Hunter Quinn has dozens of other quick move-in homes that might fit your needs. If not, we are planning to add several new communities this year including an expansion into the Greenville market. The Townes at Valley Creek is open now in Boiling Springs and the rest will follow throughout the year.
Have land, but need a builder? HQ HomeSights is the build on your lot division of Hunter Quinn Homes where we bring our most popular floorplans out of our communities and onto your land throughout Berkeley, Calhoun, Charleston, Clarendon, Colleton, Dorchester and Orangeburg Counties.
To start your homebuying journey, contact us. We will help make 2021 the year you move into your dream home. Learn more about the process here.